Blu|Com 6
Multiparty Wireless Realtime Communication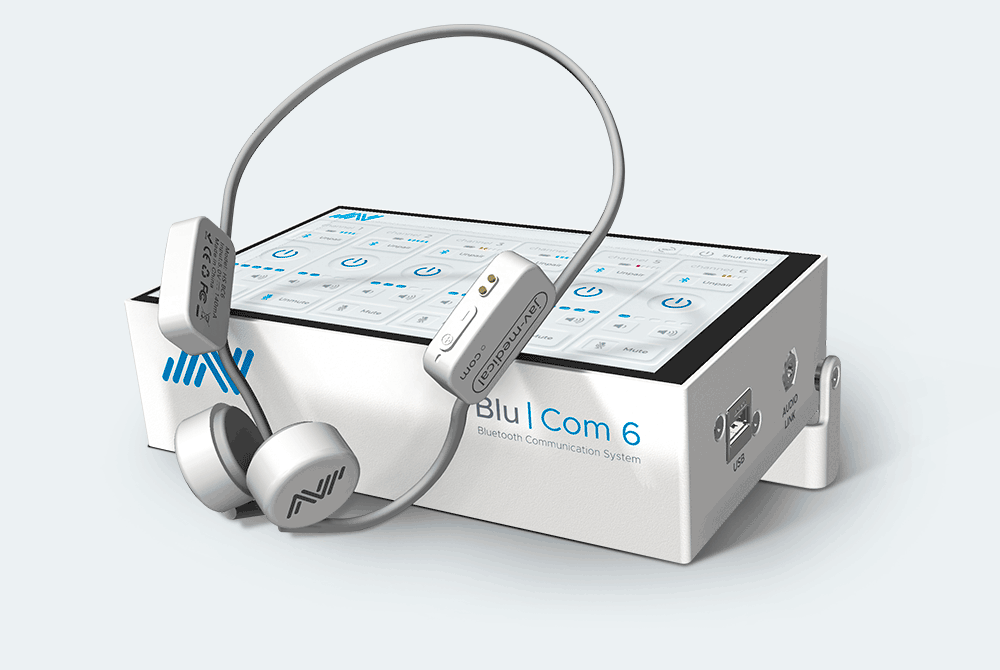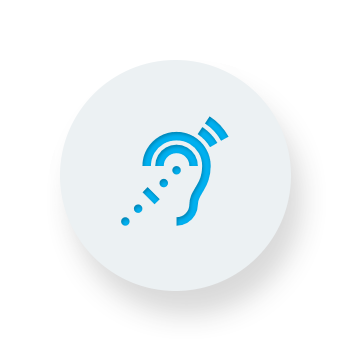 Hearing


without impairment

Hearing colleagues at adjustable volume levels, whilst keeping your ear free to pay full attention to the environment around you.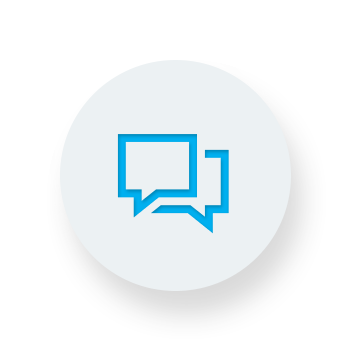 Communicate


without exhaustion

Communicate easily with colleagues wearing headsets or use in conjunction with Bluetooth speaker module for talking to patients.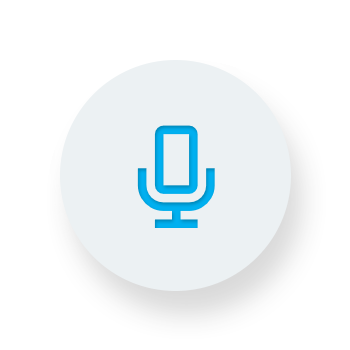 Speaking


without strain

Speaking without having to raise your voice, constant repeating or using signing as alternative.
---
Blu|com 6 is a new and unique multi party wireless real-time communication device to allow easier communication for people wearing PPE in mission critical situations, such as operating theatres, intensive care units, laboratories and cleanroom environments.

The device connects 6 high quality lightweight bone conducting headsets, optimised for wearing under PPE, enabling the wearers to communicate effectively without strain. The headsets have a full 6 hours talk time and 18 hours standby, to allow continuous use for a full workday.
The Blu|com6 base station can be connected to external devices such as video conference units, laptops and all manner of equipment for remote teaching, Teams sessions and video recording.
The small device footprint is the size of the average mobile phone. It features a 7" easy to navigate touchscreen interface, comes with medical grade mains power supply and can also be operated from a battery pack, for a whole day of mobile usage by ICU teams. The device is optimised for use in healthcare environments, with anti-microbial coating, and easy to clean surfaces. The specially developed bone conducting headset HS-BC6 is ultra-light weight at 26gram and is equipped with the latest Qualcomm Bluetooth chipset for clear voice audio, it is IP54 waterproof and easy to clean and maintain. Keeping the ear canal free from obstruction, it gives full environmental awareness whilst delivering sound reinforcement for better team communications under PPE. It also connects seamlessly with other devices such as mobile phones or Bluetooth enabled computers.

Blu|com6 comes as a set of 6 headsets, charger, power supply, audio adapter cables and operating instructions. Battery Pack optional.
The device will be available to ship from the 01/08/2021